In light of Paul Silas probably slapping Tyrus Thomas in front of his girl this past week, I decided to make a list of the Top old dudes I don't ever exchange hands with. 
Here's the thing: Old Man strength is undefeated. Years of oppression, bills, and experience just makes a dude that much tougher. I know even tho I may be physically bigger than my Pops, I don't want to see hands with him. EVER. 
Call it Respect. Call it reverence. But yo, I'm not fighting a dude who had to deal with racism and oppression in the 70s, nor a dude who wears Armani suits to tennis practice b. 
So here you go. Top 10 dudes I wouldn't want to exchange hands with. 
Jerry Sloan - Look at him. He looks like a hard-nosed district attorney. His rep of being an NBA tough guy is legendary, but there's a great story from Karl Malone on how he killed a large elk with one bullet saving his life a while ago. One bullet. 
Paul Silas - Anytime Charles Oakley listens to you, its a good sign you have respect for being a tough guy. Enter Paul Silas, a player who was notorious for clotheslining and tackling cats in the open court in the 60s. During segregation. Tyrus gonn learn today!!
Rick Mahorn - the only player Charles Barkley is on record of saying he wouldn't mess with, Mahorn is a tough mofo. But dawg, when he performed a Psycho Crusher on Leslie clear across the court a few years ago? Funniest shit ever
John Chaney- The only coach that is on record of saying he will kill Coach Cal and wants to punch his f*cking kids in the mouth. Yup. That's John for you. And remember how he left Temple? Playing against St. Joe, Chaney vowed to "send in the goons". Yup. Toughest 80 year old Kappa EVER.  
Dick Bavetta - hasn't missed refing a game since 1975, when he joined the NBA. He's on this list by default. 
Kermit Washington - the only man who nearly killed a man. On the court. He actually has a pretty tragic story following the "punch". Good read
Pat Riley - The slick hair. The stoic look. The 6 hour a day practices person. Drafted by the Cowboys even though he didn't play football. Pat Riley just has that mob boss look. 
Charles Oakley -  The man who mentored Ron Artest. Michael Jordan's best friend. One of my favorite Oakley stories is when he went to a Hawks home game, and an assistant coach owed him 2000 dollars. He met him in the tunnel, the man gave him 2500 dollars, and Oakley STILL slapped him. DURING A GAME.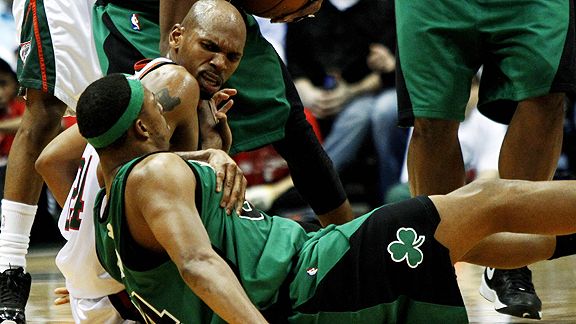 Jerry Stackhouse- He's only 40, but nobody wants it with Stack. NOBODY. Google Kirk Synder Jerry Stackhouse. Funniest fight story EVER. 
Gregg Popovich - He speaks fluent Russian. Former CIA agent. And Steven Jackson is one of his all-time favorite players to coach. Yeah. Mess with Pop if you want to. 
Old man strength is undefeated. 
Who did I miss? 
Lee